I love decorating my home for the holidays. It's something my parents did when I was a child, and I strive to bring that joy to my children each year. Earlier this week, I went to Dollar General to check out their selection of Christmas decorations and gifts, and was so excited with my finds. I was able to purchase many new items for our home without feeling like I was breaking the bank or taking from our family's Christmas. I decorated our home for less and picked up some fun gifts along the way!
The theme for my house this Christmas revolves around plaid and the trendy "Red Truck". I was excited to see a great assortment of coordinating red truck and plaid items at Dollar General. I picked up items to decorate my front door and living room mantle, plus a few extras for serving our guests on Christmas day.
I first spotted the red truck door mat and fell in love! I appreciated the price point and was able to add a wreath and adorable outdoor decoration to match! (I decorated my front door for about $30 after sale discount!)
For my mantle, I chose an adorable Christmas truck countdown ($4 and currently my favorite Christmas item of the year!), some garland ($3), stockings ($1 each) and a snowman sign ($6). Then I headed to the candles for a filler and the mantle was easily decorated for the holiday season! I also love this ornament garland which is actually a Christmas card holder! Smart, cute and functional!
Dollar General has so many red truck decorations, but they also have serving items, too! I picked up placemats ($1), an oven mit ($1), kitchen towels ($4) and plates and napkins for just $1 each! I am in love with the design, and am already hoping they come out with a blue truck with Easter eggs in the back for Christmas! (I can wish, right?)
We also picked up a small Christmas tree that will go in my hallway. My children loved decorating the tree with ornaments, lights and a star, all found on the holiday aisle.
We can't wait to add gifts under that tree! One tradition my children look forward to each year is buying gifts for their siblings. I let my daughter choose her gifts for her brothers while at Dollar General. She picked up a PJ Masks toy, Paw Patrol Bath Wash, headphones and a Hot Wheels car. Some of the other gifts we noticed were LEGO®, Barbie, LOL Surprise, Disney (Frozen, Lion King, Toy Story), Fisher Price and Pokémon.
I think Santa needs to go back and do some shopping to help his elves! The prices on these items were so reasonable. As a mom to four, I appreciate the fact that I can buy two items for nearly the price of one at another store.
And we didn't forget to pick up tape, scissors, wrapping paper, gift bags and decorative boxes while shopping. Dollar General has an amazing selection of products to help with all your wrapping needs. I think I could have bought one of every bag, but the pre-assembled boxes were cute, too! My toddler already wrapped a gift for his dad and is so proud he did so!
From decorations to gifts to food, drinks and wrapping supplies, Dollar General has everything you need this holiday season. And, there are two amazing ways to save money on your purchases and stretch your dollar further: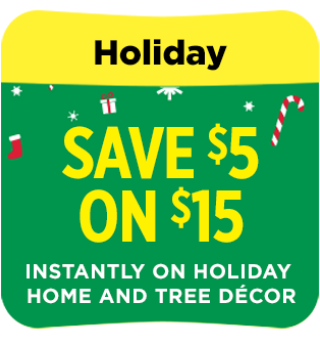 1. When you spend $15 on holiday home and tree decor, you'll save $5 instantly!
2. Sign up for the Dollar General Digital Coupons by downloading the app found in the app store! I love the extra $5 on $25 purchases (usually redeemable on Saturdays).