The producers of the world's biggest magic show, THE ILLUSIONISTS, have teamed up with the award-winning puppeteers from WAR HORSE, to bring a thrilling turn-of-the-century circus spectacular.
CIRCUS 1903 –The Golden Age of Circus will play at the Music Hall at Fair Park May 23 – June 4, 2017, presented by Dallas Summer Musicals. This North Texas premier has all the thrill and daredevil entertainment one would expect from the circus, with an exciting new twist.
Sensational puppetry puts Elephants back in the ring as never seen before by introducing the largest ever performing African elephant and her baby, along with a huge cast of the most unique, amazing and dangerous circus acts from all four corners of the world, from strong men to contortionists, acrobats to musicians, knife throwers, high wire and much more!
The award-winning team of puppeteers and model makers who created the National Theatre's WAR HORSE have designed, built and brought to life two stunningly beautiful elephants for CIRCUS 1903 –The Golden Age of Circus. Featuring groundbreaking advances in design and expression, the puppets appear throughout the show as the mother teaches her calf the tricks of the trade.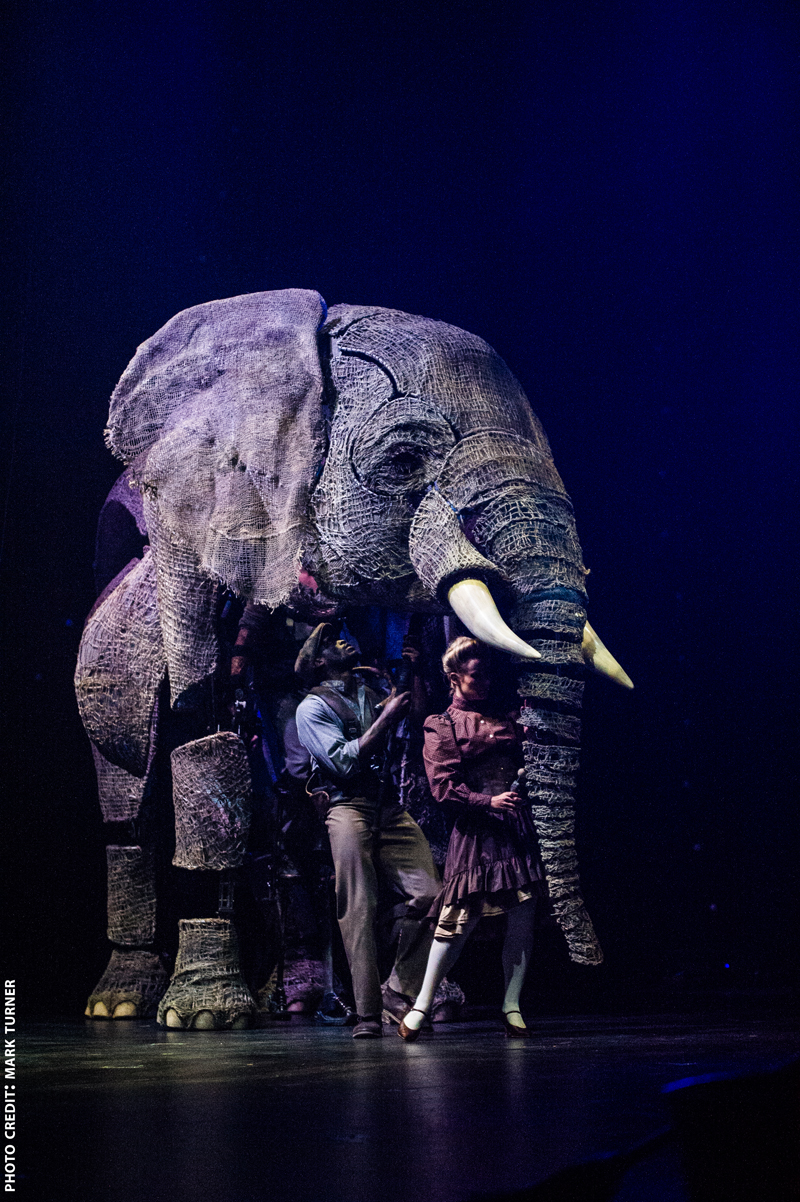 CIRCUS 1903 –The Golden Age of Circus is produced by Simon Painter, Tim Lawson and MagicSpace Entertainment. Painter and Lawson have presented LE GRAND CIRQUE, LE NOIR, CIRQUE ADRENALINE and THE ILLUSIONISTS in over 250 cities from London to Sydney to Broadway, as well as presenting A CHORUS LINE, CHITTY CHITTY BANG BANG and FIDDLER ON THE ROOFthrough Australia. MagicSpace Entertainment has been producing and presenting national tours, Broadway shows, concerts and museum exhibits worldwide for over 35 years, including THE ILLUSIONISTS – WITNESS THE IMPOSSIBLE, DONNY & MARIE – A BROADWAY CHRISTMAS, AMERICAN IDIOT, RAIN – A TRIBUTE TO THE BEATLES ON BROADWAY, LORD OF THE DANCE CREATED BY MICHAEL FLATLEY, JESUS CHRIST SUPERSTAR, A CHORUS LINE and national concert tours by Janet Jackson, Cher and Fleetwood Mac, to name just a few.
No circus would be complete without its music. The soundtrack of CIRCUS 1903 –The Golden Age of Circus encapsulates the time period and accentuates the thrill and danger of the acts. It is composed by Evan Jolly, composer of many of Painter and Lawson's international hits. Dallas Summer Musicals will also have a group of musicians for every performance that will play time period tunes in the lobby of the Music Hall.
Single tickets for CIRCUS 1903 – The Golden Age of Circus, starting at $20 (pricing subject to change), are now on sale at www.DallasSummerMusicals.org or by phone at 1-800-745-3000.