This post is sponsored by savings.com. All thoughts and opinions are my own.
This weekend, my family headed to our local Sam's Club to stock up on last minute gifts for the holidays. While we were there, we made sure to stop for Community Coffee which is our favorite way to start the day.
Since the holidays can get stressful, one thing I always do is set aside a day to make tea cookies. It's a great afternoon snack and tea cookies go great with your favorite cup of coffee. I love turning my coffee into a warm peppermint mocha, an iced coffee or a low-carb frapp. Setting aside this day for a break gives me the opportunity to choose happy instead of stress.
Another way I de-stress? Knowing Sam's Club carries Community Coffee in a variety of flavors. Being from Louisiana, I grew up on the Cafe Special, but have grown fond of their Bread Pudding and Between Roast, too. In fact, Sam's Club is one of the few places I can find the Between Roast, so it's extra special to our kitchen! If you are not a member of Sam's Club yet, now is the time to consider becoming a member! Especially since new members can get a $15 eGift card right now!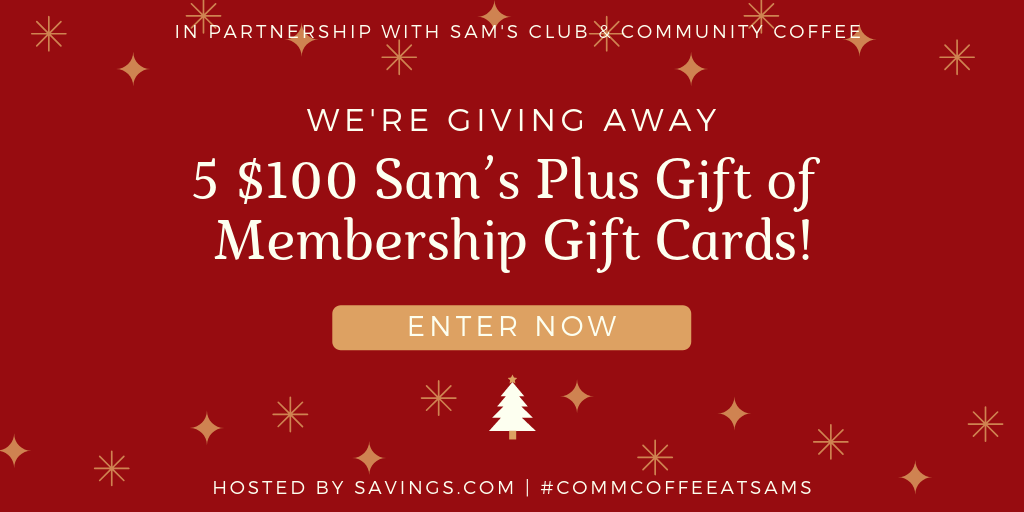 Savings.com is giving away (5) $100 Sam's Plus Gift of Membership gift cards to promote the great prices that Sam's Club offers on Community Coffee products! The giveaway ends on December 31st at 11:59 PM ET, so make sure you enter today! (Who couldn't use an extra $100 to spend at a store that offers so much to it's members?)
Don't let the holidays get you worked up this year. Remember to choose happy, bake the cookies and always make time for a nice cup of your favorite coffee. (*And make sure you open your Valpak envelope for more information about Community Coffee at Sam's Club!)