Christmas is all about kids, if you ask me! The joy of waking up to see the smiles on their faces, followed by a day of family and friends… there's nothing better! While there are thousands of items out there, these are a few of the top holiday gifts for kids this holiday season!
Did you know about the Tula Mini Carrier? It's perfect for girls with younger siblings — especially if they are into baby dolls like my daughter! Your child can play pretend and carry their lovey or baby doll in a Tula Mini Toy Carrier that looks just like Mommy and Daddy's Tula! Share memories from your early bonding time or have your big kid be a part of the babywearing fun that you share with a new sibling with this gift!
Skylanders Imaginators are the hottest toys for the Wii U this season! Embark on an Epic New Adventure and use the Imaginite Creation Crystals to Create Your Own Skylanders! Kids will love getting creative with the Sensei Skylanders, the Ultimate Masters of the Almighty Sky-Chi Powers, as they battle to save Skylands.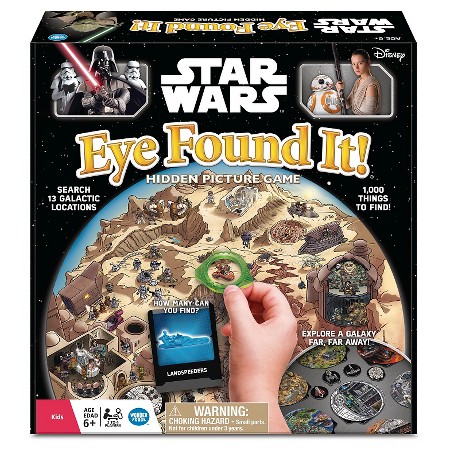 In
Star Wars Eye Found It
, children will blast off on a location-hopping adventure through the Star Wars galaxy, from Tatooine and the Death Star, to Jakku and more! Search the galaxy for over a thousand characters, starships, Droids, and artifacts in a quest to find R2-D2! This game is recommended for children
6 years and older. Each game is for 2-4 players, and a round is about 30 minutes long.

The Touch and Learn Activity Desk Deluxe by VTech is a three-in-one desk with interactive activity cards that's expandable for more fun and discovery! The desk features an interactive desktop and five pages to explore that are filled with engaging content including letters, numbers, music, colors and more. Choose from eight expansion packs (each sold separately) that each focus on a specific curriculum like nursery rhymes, reading skills, animals and numbers. It also transforms from a desk into an easel and chalkboard with plenty of storage space for art supplies to encourage play and discovery. The LED display illustrates letter and number stroke order and how to draw basic shapes. For even more fun, your toddler can play with the toy telephone or listen to fun tunes on the music player. Enjoy hours of fun as you create, discover and learn! Stool included. Requires 4 AA batteries (not included). Intended for ages 2 years and up.
This series of visually rich instruction books for Lego® creations is perfect for children ages 5 and up. Inside you'll find a range of creative models to put together–from animals to airplanes, street scenes to seascapes and much more, created using the Lego® Classic set 10693, or bricks you already have at home. Each book in this interactive series contains 3-5 "dioramas" featuring a diverse range of models. Full color, step-by-step diagrams guide you through the process, enhancing the fun
In Nintendo's Paper Mario, Prism Island is being drained of its color, leading you on a colorful adventure. It's your mission to put Paper Mario's paint hammer splashes on special items, in order to bring the color back to the island. This game is rated "E" for Everyone w/Mild Cartoon Violence. (one player)

Hatchimals live inside of eggs, but you never know what's inside! Hold them to hear their heartbeats, flip them for fun, tap and they'll tap back! Hatchimals can't hatch without you, so give it lots of love, which continues out of the egg! When it's time to raise your Hatchimal, you'll go through 3 stages where you can teach your cute Hatchimal to walk, talk, dance, play games and more!
At Games has an Atari Flashback® Portable console that kids will love. It's Plug & Play compatible on most televisions, with optional cable and an SD slot for downloaded games. A travel-friendly MUST HAVE for the avid gamer. My children love to play this in the car on road trips!
In Marvel I Can Do That! Game, being a superhero means facing challenges with a can-do attitude! In this game you will train to be a superhero by performing unexpected feats of skill! At any time you may be called upon to put your training to the test by battling the villainous Green Goblin! Have fun and discover all the new things you can do!

The 3D Illuminated Model Building Table provides a surface that is compatible with all popular brick building sets. The table includes 218 building blocks (27 illuminating) and a container underneath to store them. The table top is comprised of two removable boards that each include 40 low voltage conductive pegs that safely transmit power through the illuminating bricks, allowing a child to construct everything from a colorful carnivorous creature to an LED-laced cityscape. A red button on each portable building board enables a young architect to turn the LEDs on and off, or choose from one of three blinking patterns. Adjustable legs enable kids of various sizes to enjoy the play table with ease.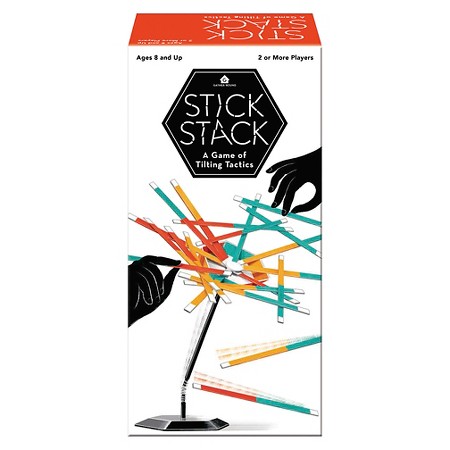 In Stick Stack, Stack it up by adding sticks to the wobbly stack using one hand and matching the colors. But keep steady—one unstable stick could make it all come tumbling down! This beginner level game is recommended for children 8 and up, and for 2 or more players.
AMERICAN GIRL®: Ultimate Visual Guide will be a treasured addition to every American Girl fan's bookshelf. With gorgeous images of every BeForever™ and Girl of the Year™ doll, an expanded section on the TrulyMe™ dolls, a detailed timeline of the company, and tons of exclusive behind-the-scenes information, this book takes readers on a wonderful journey from the start of The Pleasant Company all the way through to present day. Find out all about your favorite characters and their lives, historical eras, outfits, pets, accessories, and more with this book!
Dr. Seuss Thing Two and Thing One Whirly Fun! Game is bound to create a few laughs! With Mother out of the house for the day, The Cat in the Hat has brought Thing One and Thing Two to play! Oh, but these Things run about with bumps, thumps and kicks! Work together to clean up their mess before Mother comes home. It's cooperative fun for everyone!
Using fun and simple Bubble experiments, kids can learn about surface tension, air pressure and other scientific principles. With seven exciting activities and fun characters from Disney Pixar Finding Dory, little fish of any age will get swept up in science! The Disney Pixar Finding Dory Imagicademy Bubble Science Kit will allow your child to: Experiment with elasticity, Build bubble sculptures, Explore surface tension, air pressure, diffusion and more!
Make scary 3D creations with Fright Factory! Use the special light curing EwwGoo™ gel to fill creepy molds and then flash them with the eerie light from the Fright Factory Creature Creator. Kids can create insects, reptiles, rats, bats and more!Fright Factory™ uses ultra-safe LED light to develop your creations. Gels are quick curing, non-toxic and kid friendly.
Trendsetting fashionistas will love staying covered and protected from the sun with
Undercover

Waterwear
's posh swim dresses, swim skirts, swim tops, and swim leggings. With these contemporary fashions, you can have all of the pool and beach fun without skin damage hazards!
Undercover
Waterwear developed a full line of swimwear for the modest woman who wants to enjoy being active and looking good. With a swimdress or swimskirt, you can enjoy any water activity; such as swimming, jet-skiing, boating or going to water parks looking fabulous and staying modest. Below are some of the line's top picks.
Gemmies are the next evolution of the popular 3D beading craft. Following a simple process, kids clip Gemmies crystals to elastic rings then join completed rings to create a 3D sparkling creation! Design templates are intuitive and use a repetitive pattern that lets kids develop their cognitive abilities and progress to designing their own creations. You can make anything out of Gemmies crystals. starting series include animals, flowers and more!
Seedling lets your daughter match Disney's The Little Mermaid! With tulle, glitter glue, shells, stars, and more, this easy to make DIY kit has everything you need to design your own magical mermaid tail. Bring your favorite adventures to life, your way! The Design Your Own Disney Kits by Seedling offer a fresh, exciting way to dream and design the stories you know and love.
Kids love Shape Mags Magnetic Tile Building Sets! Shape Mags allow little builders to create castles, bridges, trains, buildings, pyramids, rockets, their name, and more. Shape Mags come in train track sets, gates and fences, frames, arches, windows, doors, vehicle bases, and much more. Shine a flashlight through their magnetic structures to explore shadows and color or try building in the window or on the overhead projector to create a colorful reflection and great hands-on learning fun. Kids are only limited by their own imagination to put together a morning or afternoon of creative fun.
When you give a handcrafted piece from Isabelle Grace Jewelry, you're giving unique, wearable jewelry that celebrates life, love and family. Each design is crafted by hand, sustainable and provides a lifetime of wear and enjoyment. Isabelle Grace's designs are crafted by hand, sustainable and provide a lifetime of wear and enjoyment. If you love Isabelle Grace Jewelry designs, you're in good company. Isabelle Grace's celebrity following includes Katherine Heigl, Lindsay Price, Tori Spelling, Courtney Mazza Lopez and Alyson Hannigan.
I just learned about Chompy Mage, who is the perfect figure for your Skylanders Platform! Did you know Chompy Mage actually hatched from inside a Chompy Pod? At least that is how his Chompy hand puppet tells the story. Having been raised by Chompies, it is no surprise that the old magician is a little strange. He simply grew up embracing the Chompy way – believing that Skylands would be a better place if everyone was a Chompy – an illegal enchantment which he has actually tried to perform on several occasions. It was this kind of magic that led to him to be locked up inside Cloudcracker Prison. After breaking out and joining the other Doomlanders, Chompy Mage was once again captured by the Skylanders, Eon gave these Villains a choice – either go back to jail or become Skylander Senseis.
Have you seen the new Moana Doll? Take note of the product, but the packaging is important, too! "Everything at Disney starts with storytelling, even our toy packaging," said Luiz Fernandez, senior vice president, central creative, Disney Consumer Products and Interactive Media. "By combining Disney magic and our smart packaging principles, we created a package that's not only better for the environment, but also a way to continue Moana's story."
Merge lets you experience virtual reality using the device you've already got in your pocket – your smartphone. Play games, fly into space, explore an unknown world, or watch a concert from your living room just by downloading apps. Sculpted of soft, lightweight foam that fits comfortably to the contours of every face, the goggles are durable enough to be tossed into a backpack, taken on the go, and shared among friends. The Merge VR Goggles are compatible with nearly any iOS and Android device from the last two years.
With products from Back To The Roots, you can grow gourmet, organic oyster mushrooms right out of the box in just 10 days! Just open the box, mist with water, and harvest 10 days later. The Mushroom Farm lasts for months in the box unopened, making a great gift item for kids, families, foodies & chefs!
This Design Your Own Marble Maze from Seedling is super neat! It's a classic game, reinvented. Step inside your imagination and design your own virtual reality! Combining high-quality materials with cutting-edge technology, it's an exciting new way to play. Start your adventure by designing your own marble Maze. Place walls onto the grid, add traps, choose start and end points, then drop the marble into your Maze to play. Challenge your friends and family to race to the finish. With moveable walls, there are endless ways to redesign and play your Maze. (Works with iOS and Android devices.)
The Turtles are ready to fight Shredder and the Foot Clan thanks to Donatello's newest creation, the Turtle Tactical Truck! This may look like an ordinary garbage truck, but it's packed full of Foot fightin' surprises! Straight out of the movie Teenage Mutant Ninja Turtles Out of the Shadows, the Turtle Tactical Truck is ready to burst into action and recreate your favorite scenes from the movie.
The new feature film brings the turtles out of the sewers to fight a new threat from another dimension! When Kraang and Shredder team up the Turtles need some big firepower to face them. The ultimate showdown approaches, and our heroes must rise up again to save the city they love.