Spring is the perfect time to think about the upcoming months. With Mother's Day, Father's Day, Graduations, Memorial Day and summer, there are bound to be busy days when you wish you had that certain item for the right occasion. I've listed a few of my favorite must-have spring items on this list below. These items make great gifts!
Style, Function, Stripes and Leather – the Baby K'tan Weekender comes in three beautiful colors, contrasted with trendy stripes and plush brown leather. This bag will turn heads while its features and storage keep you organized and prepared for any scenario.
This bag has storage galore with nine compartments including a built-in antimicrobial wet bag, full-size cooler pocket, and even padded laptop storage! You'll also find a germ-resistant changing pad, pacifier pouch, a built-in wipes pocket and wipes dispenser and a cross-body strap for carrying options. It's perfect for travel whether on the road or out for the day — this stylish and roomy diaper bag will keep you using it well past the baby days.
The Baby K'tan Weekender sells for $89 and can be purchased on Amazon.
Haggar's E-CLO Stria Dress Pant is a great example of sustainable clothing. Haggar received an inaugural REPREVE® Champions of Sustainability award earlier this year and their E-CLO Dress Pant features fibers made from recycled water bottles. Haggar has worked with Unifi, Inc. for over 5 years, using fabric made from REPREVE upcycled fibers and selling pants that utilized the equivalent of more than 130 million recycled water bottles to date. Consider Haggar pants for Father's Day this year! The Premium No Iron Khaki is America's No. 1-selling casual pant style.
Make sure you follow Haggar on social platforms to stay up to date with trends and promotions!
Wrap your world in spring and create a relaxing, cheerful space with Yankee Candle. Some of the spring scents include:
A Calm & Quiet Place – Balanced with gentle jasmine, a whisper of patchouli, and warm amber musk.
Color me Happy – Lush mango and bright tropical sunlight, sweetened with peach and vanilla.
Juicy Citrus & Sea Salt – Orange and grapefruit, wonderfully cool and lush and edged with salt.
Life's a Breeze – Exhilarating and fresh, like a sea breeze on a cloudless day.
Peaches & Cream – A wonderful swirl of thick, sweet cream and juicy peach.
The assortment of Yankee Candles can be viewed in the online store or at your nearest retailer.
SleepPhones® are headphones in a headband that make it comfortable to listen to music, audiobooks, or whatever sounds that would help somebody fall asleep. They allow the freedom to sleep on their side without worrying about painful earbuds or bulky headsets.
Offered in two main models: the Classic, which has a cord, and the Wireless. SleepPhones® come in two fabrics SleepPhones® SleepCloud (Fleece) and SleepPhones® SleepCloud Breeze.
The SleepPhones range in price from $39.99 to $99.99 and can be purchased in the SleepPhones store.
Pomelo wines are known for their refreshing and expressive fruit profiles that please every palate and pocket. Sourced from well-known wine growing regions in California, they work closely with growers to hand select grapes that ripen gradually and evenly, producing clean, approachable and balanced flavors.
At Terra d'Oro, the Zinfandel grapes are carefully hand-picked and brought to the winery for processing. Cold-soaking for up to three days allows water to break down the cell walls of the grape solids, extracting flavors, color and aromas. After gentle tank pressing, the wine is aged in a combination of French and American oak (25% new) for 14 months resulting in subtle caramel notes with indications of exotic spice.
The Napa Cellars 2016 Chardonnay displays the classic Napa Valley Chardonnay characteristics indicative of this region. Aromas of peach, bright apple, and graham cracker excite the senses. Flavors of pear, crème fraiche, and pie crust are complimented by a creamy texture with balanced acidity and a nice, lingering finish of crème brulee and white peach. This is the perfect wine to pair with a Camembert French cheese plate drizzled with local honey and almond halves, or with panna cotta topped with fresh berries for dessert.
The Hamax Caress rear child bike seat is the premier option in the Caress line offering a variety of easy-to-use adjustable features suitable for a growing family. All adjustments are designed for one-handed operation so you can use the other hand to stabilize the bike when securing your child.
The Caress offers additional safety features aimed at protecting the most precious cargo you will ever have, while also providing optimal comfort in a sleek, modern style.
I love that this seat was so easy to install. It reclines and is safe for children 9 months to 48.5 lb. My 28 month old loves going for bike rides through the neighborhood!
This and other bike seats can be purchased at Hamax USA. This particular model sells for $159.00.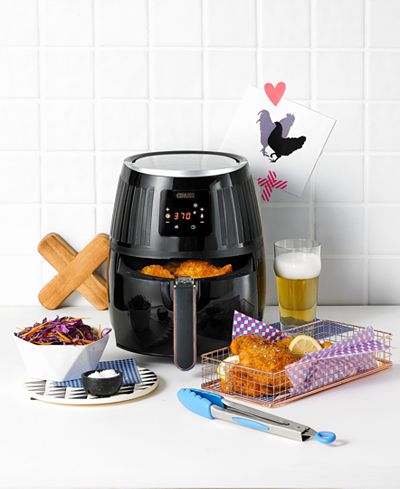 The Crux Air Fryer is a 1500-watt heating revolution. Utilizing high performance heat circulation technology, cook up to 2.2 pounds of your favorite foods—chicken wings, potatoes, donuts and even bread – with little to no oil. This technique reduces fat by 77% and calories by 61% on average frozen fries. Designed with a stainless-steel heating element, the fryer pre-heats quickly and stays hot to provide crisp, evenly cooked food. A digital touchscreen controls temperature and time, shutting off the fryer so your food is never overcooked. Air Fry up to 400°F for up to 60 minutes and then place just the basket in the dishwasher. It's a modern take on non-frying.
This air fryer sells for $115 and is exclusively available at Macy's.
Attract, trap and kill flying insects including mosquitoes, biting flies, Asian beetles, wasps, hornets, yellow jackets, moths, stink bugs and more with the DynaTrap Insect Trap. It protects up to ¾ acre, is durable for all weather construction and is pesticide/odor free.
The best part? There's no zapping or buzzing and no expensive attractant or propane required: First, a UV fluorescent bulb generates a warm light, attracting insects. Then a second lure, an exclusive Ti02 titanium dioxide-coated surface, produces CO2 (the same gas we emit when we exhale) that's irresistible to mosquitoes. Third, a powerful, yet whisper-quiet vacuum fan sucks insects into the retaining cage where they dehydrate and die.
The DynaTrap Insect Trap sells for $159 and can be purchased in the DynaTrap store.
The Shark® APEX™ DuoClean™ Powered Lift-Away® is definitely in a class of it's own. Featuring DuoClean, Powered Lift-Away, Noise Reduction & Active-Glide Technology, the Shark's ultimate cleaning experience is now available in a full-sized upright.
DuoClean Technology features a bristle brush to deep clean carpets, and an additional soft brushroll to pull in larger particles and directly engage floors for a polished look

Powered Lift-Away: Allows you to detach the canister and clean hard-to-reach places

Advanced Anti-Allergen Complete Seal: Emits 10x fewer particles than sealed HEPA standards require

Active-Glide Technology: Smooth maneuverability on floors & carpets while maintaining powerful suction

Noise Reduction Technology: Expertly tuned to reduce noise and soften pitch.
The Shark Powered Lift-Away is available on Amazon for $349.99.
The trick to transitional hiking is versatility, and this women's trail shoe from Keen Footwear is a summer-to-fall favorite. Made of mesh and leather, it has a moisture-wicking lining and a stability shank for all-day support. With natural odor control, a non-marking rubber outsole and a compression molded midsole, this hiking shoe is comfortable and versatile.
This model is available in two colors, though other models are available, depending on specific needs.
This Keen Hiking Shoe sells for $95 and is available in the online store.
The Abisko Trekking Tights are made from a highly functional stretch fabric, with reinforced rear so they can handle close contact with sharp stones and rocks and also resist moisture if you sit on damp ground.
They are perfect for fast or more relaxing trips in the mountains or other rough terrain. The leg pockets offer practical storage, with a large pocket on the right-hand leg and a smaller zippered one on the left-hand leg. The waist is wide for better comfort and can be adjusted with a drawcord on the inside. There is also a zippered security pocket and a little loop on the left hip to attach gear or a light jacket to. The excellent fit and four-way stretch fabric gives a garment that has maximum freedom of movement, that can easily tag along on a shorter or longer climb and that will sit comfortably under a pair of shell trousers if it starts raining.
These trekking tights sell for $125 and are available for purchase in the Fjall Raven online store.
Dynamikos offers a wide arrangement of sunglasses, with Roosevelt's light weight rectangular frame being my favorite. These frames have a retro vibe, perfect for summer. The acetate of this colorway has sky blue, pearl and black hues. This frame compliments those of us with a round or fuller face. The adjustable nose pads allow for a more custom fit.
These and other frames can be purchased online at Dynamiko.com.