The start of another school year is right around the corner and I think my children are ready.  We are starting new journeys all around, and Mom may be the only one who's not nervous!  Over the last few weeks of summer, I compiled a list of my favorite back-to-school items that will make any student (or parent) forget about the first day woes and focus on the year ahead!
When my kids go back to school, they will have
Wearsafe. 
Wearsafe
is a modern-day, mobile panic platform designed to help people stay connected when they feel they are in trouble. For me, it helps my kids get the right help, right away and can instantly call me when they feel like they are in trouble.
When the Wearsafe app is activated either by the press of the Wearsafe Tag, a voice-activated phrase to an IoT device or the tap of the app on a smartwatch, designated contacts immediately receive an alert through email or text. A Wearsafe alert contains live-audio and an exact GPS location, so the right type of help can be coordinated by the ones who know you best.  Also, Wearsafe's Accident Medical Expense Protection coverage (AME) covers expenses for medical treatment and emergency transportation due to accidents, injuries, or falls.
This product is great for kids of all ages (0-99).
The Cow forms the handle of this adorable 3d animal mug from
Servette Home
. This beautiful and
high quality ceramic mug
will hold up to 12 oz of your favorite drink or beverage. Whether you love coffee, tea, juice, water or soda, this adorable mug will be your favorite mug that you reach for. The whimsical animal will make any one smile! Makes a great gift for women, kids, or really anyone who loves animals and cows.
This
pineapple cutting board
from Servette Home can be used as a cutting board, charcuterie board, or a beautiful piece of home decor. The cutting board measures 18 inches high and 9.25 inches across, making it a great tool for your dorm room or office kitchen.
Mabel's Labels offers a school label combo featuring a range of modern, stylish designs — they are the perfect choice for school age kids. Use these sophisticated labels on school supplies, water bottles, electronics, chargers, shoes and much more! This label value pack will save you time and money by keeping your student's stuff out of the lost and found.
This leather work backpack from Leather NEO is made just for you!  It's perfect for work, travel, or everyday use. Also, the backpack is a perfect gift for any occasion, that will serve its owner for a very long time. Leather computer backpacks are lightweight backpacks designed to carry laptops of any size and other essentials. Our products are created by high-quality genuine leather as it is your best companion during your daily travel.
The multi-pocket pattern of this traveling leather backpack adds a feature to its elegancy and makes it more demanding in the market. Every design that is created at our store is made to make you ready for a smooth experience on your travel.
This bag is very functional and can hold a 15-inch Macbook, clothes, A4 and US Letter notebooks,  books, folding umbrella, wallet and mobile phone, etc. at the same time.
These comfortable headphones from Lil Gadget are perfect for going back to school! They are padded and lightweight, recommended for ages 2-8. With metal hinge supports that provide extra durability to a max volume that's set at 93db, your child won't need to replace these headphones all year! 
SharePort: No need for a splitter! 1 side of the Connect+ Style plugs into the device and the other can have another headphone plug into it to share audio 

For the Kids: A portion of each purchase goes towards bullying prevention and awareness in schools through partner organizations. Additionally, we minimize the environmental impact of LilGadgets through waste reduction, carbon offsets, and water cleaning projects to help keep the outdoors clean for our kids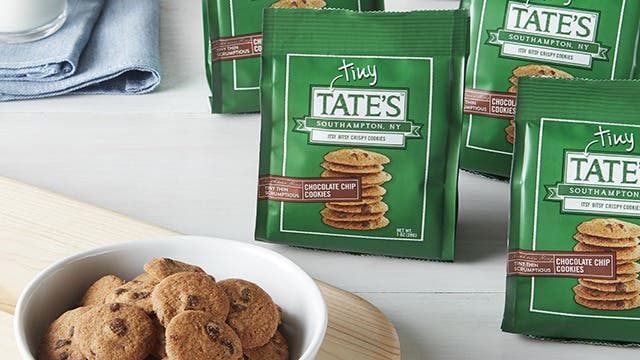 Tate's Bake Shop
, known for their buttery crispy chocolate chip 
cookie
, now has a smaller version which is perfect for kid's back-to-school lunchboxes. The bite-sized version of everyone's favorite treat, Tiny Tate's, is guaranteed to add excitement to any kid's day!
What was once only to be found in a small Southampton bakery can now be taken with you anywhere you go
–
making parents' lives easier, and kids' lives tastier. 
Since 2009,
Spunky Stork
has chosen to source only 100% certified organic cotton material because they believe in the future of sustainable commerce and really cares about the end-users: babies & kids. Their material doesn't use toxic dyes or chemical colorants – the items are so soft and of great quality!
Spunky Stork has items for boys and girls, with cute designs and styles. These school-themed shirts are some of my favorites, and we have plans to wear the "School Rules" on the first day of class!