Coffee with Cops is a partnership between the Dallas Police Department and McDonald's of North Texas to boost officer and community relations by providing residents with the opportunity to interact with Police Officers working in their neighborhood.
The partnership began in 2013 and has continued to evolve over the past six years. The event will take place on Saturday, November 16 at four different locations throughout Dallas.
Officers of all levels – including Sergeants, Deputy Chiefs and Neighborhood Patrol Officers – will sit down with residents to answer questions, discuss public safety and build relationships with those they serve. Residents are invited to stop by one of the participating locations for free McCafé Coffee and conversation with Dallas Police Officers. Additionally, guests will be able to sample the new Cinnamon Cookie Latte and Donut Sticks.
Coffee with Cops will take place at the below McDonald's restaurants on Saturday, November 16 from 9:00 -11:00am:
3520 Storey Ln, Dallas, TX 75220
3802 Gaston Ave, Dallas, TX 75246
5960 Greenville Ave, Dallas, TX 75210
705 W. Jefferson Blvd, Dallas, TX 75208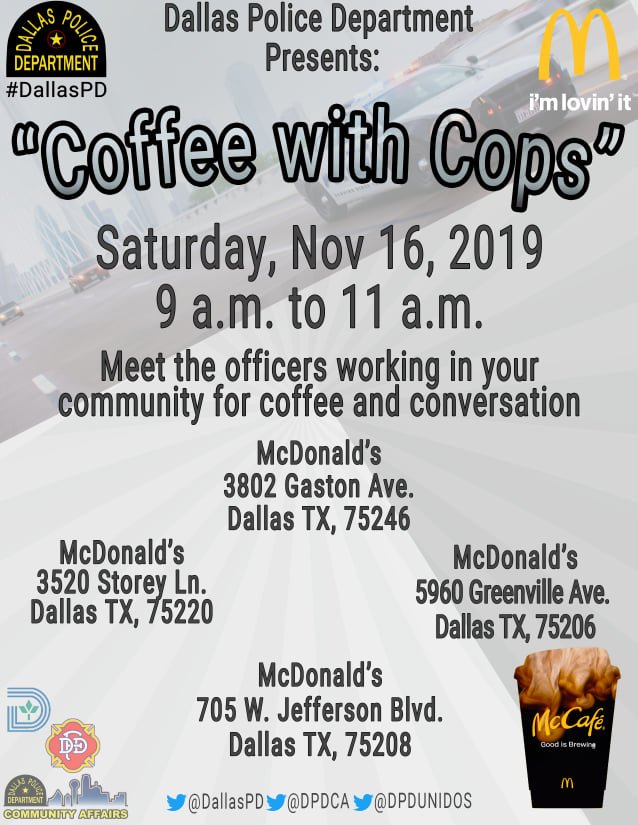 "McDonald's is committed to building relationships with local communities, and we're honored to continue our partnership with the men and women in blue to do just that," said Karen Skinner local McDonald's Owner/Operator. "Since its inception in 2013, Coffee with Cops has grown to become a well-known event that both Owner/Operators and McDonald's crew members look forward to twice each year. We're proud to have a hand in helping create these valuable relationships throughout our great city."