Welcome to the 2022 Holiday Gift Guide, brought to you by Hustle Mom Repeat! This year, I will bring you some amazing gift guides, each featuring the top gifts to give this holiday season – there's something for everyone!
With its award-winning design and solid build, the Monos Carry-On suitcase is the perfect travel companion. This carry-on luggage size is designed to fit in the overhead bin of almost any flight, anywhere in the world.
Outfitted with an unbreakable polycarbonate shell, ultra-sturdy telescopic handle, TSA-approved lock, whisper-quiet wheels, vegan leather details, and all-premium materials. When you're not traveling, the Carry-On suitcase nests inside any of our Check-In sizes for easy storage.
The H3PRO Hybrid Wireless Headset is designed to be the ultimate wireless gaming solution: tons of connection options, Active Noise Cancellation, audio mixing of chat and game.
All in a lightweight frame that delivers pristine wireless gaming for up 30 hours. The ergonomically designed headphones gaming ear cups are both comfortable and block out distractions, while the built-in ANC slider activates low-frequency noise cancellation for more immersive gaming audio. Plus, the EPOS Gaming Suite lets you adjust every component of your headset with mic audio from in-game audio surround sound to communication on your PC. Sound adjustments and phone calls from your pc headset with microphone are easily controlled with the touch of the smart button located on the right ear cup. Your gaming headphones with mic also let you mix your audio streams with simultaneous Bluetooth and wired gaming connections. Connecting your device with Bluetooth is even smoother for those with an Android smartphone; simply attach the wireless headset dongle to your gaming headset with mic and you're ready to go.
Battery Daddy® is the ultimate battery storage system to organize and protect all your batteries. Its unique double-sided design stores and organizes up to 180 batteries yet takes up the space of a laptop – perfect to fit in any cabinet, drawer, or shelf. As a parent with children or just a single individual, staying organized with nick-nacks around the house makes everything a lot easier to find and store, especially loose batteries rolling around.
Best of all, Battery Daddy® comes with a battery tester so you can quickly test the life of the batteries you have. It's a great gift for any dad or grandad in the family.
SpiritShop is your one-stop store for custom school apparel, team and spirit wear. Featuring 125,000+ schools nationwide and hundreds of high-quality products. Just find your school or team and create personalized school gear for any occasion. Choose from a huge selection of t-shirts, sweatshirts, hoodies, jerseys, hats, drinkware, and other fan gear. Enjoy unbeatable prices and outfit the entire family this holiday season!

An at-home Dip Powder Nail Kit by SNS Nails is a great fit for beauty aficionados of all lifestyles. SNS products are healthy*, durable, and extremely popular among nail experts. With over 100 colors to choose from, there's sure to be a color on the palette that matches the week's outfit!
*Unlike MMA dip powders, which contain ingredients that are toxic and harmful for your nails, every ingredient in SNS products was selected because they make your nails healthier and stronger.
BedInABox® offers mattresses that range from medium-soft to firm in feel, to meet every sleep need.
The mattress in a box is a high-quality memory foam mattress that is compressed and rolled into a box before shipping. It's not just a mattress. It's comfort that makes the mattress shopping and delivery process similar by eliminating the need for in-store visits and traditional mattress delivery.
If you are looking for a personalized gift, check out the selection from Groovy Guy Gifts. From sports-themed gifts and travel related gifts, to Men's bags and gifts for the home, they have something for every type of man. And because each item is personalized, your gift recipient will know that you took the time to find something truly unique – just like him!
Experience the warmth and comfort of the Misty Mountain Quilted Throw from Cabin Place. It's a great way to add to the charm of your rustic decor, as the throw evokes the feelings of scaling a mountain, thanks to its pattern, texture and colors. This quilted throw is perfect for the foot of your bed, on the back of the sofa, or keeping your warm while curled up with a book.
Curly Girlz Candy has pioneered & perfected the art of gourmet, handcrafted caramels, toffees, and brittles. They offer a full line of sugar-free and no sugar added candies that are made with a proprietary blend of Allulose, Erythritol, and Stevia. The candies help your sweet tooth without derailing your health goals and most with only 1 Net Carb per serving.
Healthy snacks should be tasty and with one bite, you'll be hooked. The treats are kid-approved, and the specialty Holiday Gift Box comes in two sizes. (Prices start at $89.95, which includes shipping and a customized greeting/enclosure.) In addition to the Holiday Gift Box, they offer a variety of indulgent gifts and candies for the holidays from Award-wining Sea Salt Caramels to Caramel and Brittle Trios
A personalized necklace gift from Groovy Girl Gifts is the perfect way to show any woman in your life how much you appreciate them this Christmas! A touch of sparkle will add a bit of glamour to any day. From beautiful name necklaces to best friends necklaces check out the selection — perfect for all the ladies in your life.
Wildgrain
is the first bake-from-frozen box for sourdough breads, fresh pastas, and artisanal pastries. All of the products are baked within 25 minutes (no thawing!) and are made with clean, easy-to-understand ingredients.
Introducing the Barsys Smart Coaster ($99) and Barsys Coaster + Mixer Combo ($149), equipped with Barsys Smart Bar Technology that makes it easier than ever before to create uniquely handcrafted cocktails with your smartphone. Select cocktails from the Barsys App which guides you step by step while the coaster precisely measures each ingredient to create a delicious cocktail every time.watch as your beverage is poured with speed and precision. Become part of the community. Consumers can create, explore, discover and make cocktails from their favorite brands and mixologists with the ability to customize drinks to their taste and strength preferences.
The Coaster is this season's must-have bar accessory as a gift or a way to help out in the kitchen when guests are over. It's the life of the party, instantly turning cocktail lovers into home bartenders by connecting directly to the app. Select from pre-programmed cocktails or customize your own. Watch as the Coaster vibrantly illuminates, changing colors to indicate when to start and stop pouring each ingredient.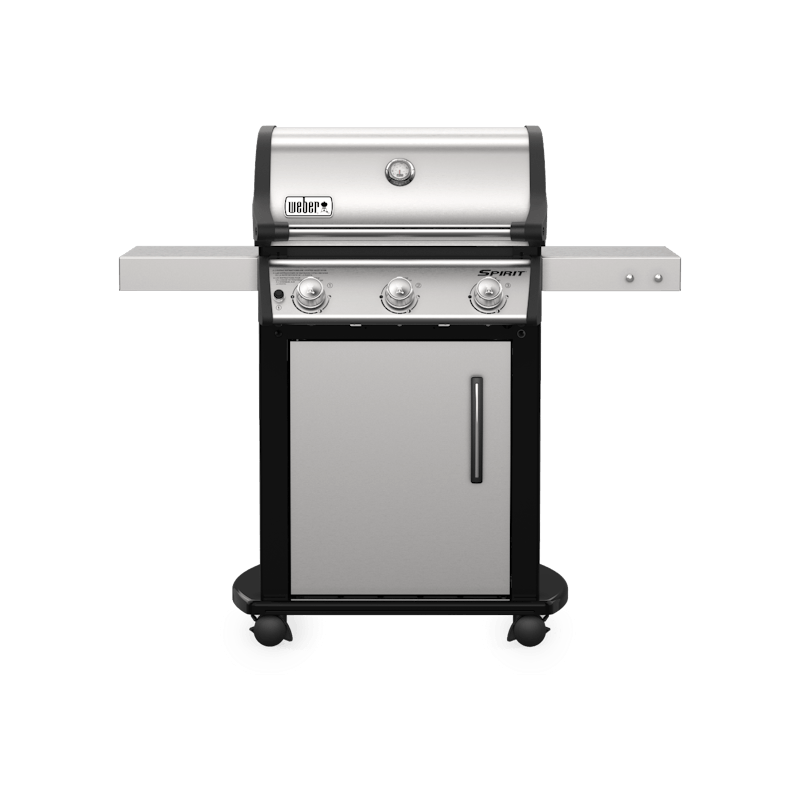 The three-burner Spirit S-315 Weber gas grill is ideal for entertaining a crowd. Use the convenient side tables for placing serving trays, while grilling tools hang from the tool hooks. Designed with a sleek stainless steel finish and ample cooking area. The porcelain-enamel cast-iron cooking grates are durable, easy to clean, and retain heat for the perfect sear. It's the perfect answer to any meal.
• Premium-feel knobs and stainless steel lid handle.
• Durable, easy-to-clean porcelain-enameled cast iron grates.
• Sleek, stainless steel lid.
• 424 square inches of main grilling space.
Turn any space into a luxurious retreat with the Laluz diffuser from doTERRA. This sculptural diffuser creates ultrasonic vibrations, transforming water and essential oils into an aroma-infused mist. With a runtime of up to eight hours, you can diffuse your favorite essential oils all day or night.
We paired the diffuser with On Guard, which is one of doTERRA's most popular oils. doTERRA On Guard protects against environmental and seasonal threats with essential oils known for their positive effects on the immune system when ingested.* doTERRA On Guard can be taken internally on a daily basis to maintain healthy immune function.* It can also be used on surfaces throughout the home as a non-toxic cleaner. When diffused, doTERRA On Guard helps purify the air, and can be very energizing and uplifting.
Shinesty carries men's and women's holiday underwear with original designs and X-rated prints that are perfect for friends and family on your Naughty List. They also offer Christmas suits and dresses that guarantee you'll be the life of any holiday party.