My husband always asks me what I want for Christmas, and I never know the answer. There are so many things I want, a few things I need, yet I often forget to write these down when I'm thinking about them! This list of gifts for her is a great reference for all the "hers" on your list this year!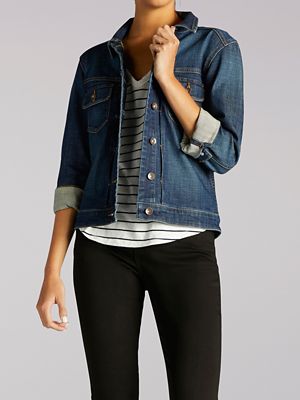 The Holden Denim Jacket from Lee Jeans assures us there's nothing better than a great fitting trucker jacket! Pair it with anything and give yourself a polished, layered look for day and night. It's cut in a stretch denim that moves with you and has detailed classic pockets and vintage-style pleating. There's no doubt, the Holden jacket is quite the catch.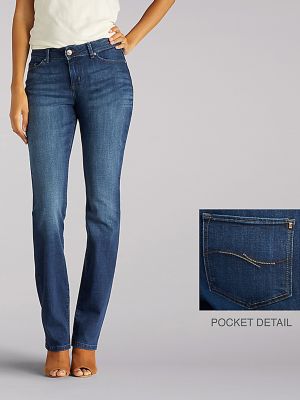 Lee Jeans with a curvy fit are here to flatter. They are made of soft, luxe stretch rayon denim, giving ultimate support and comfort where every lady needs it. Adrian hugs your curves, holds your shape and stretches to maximize your moves. They even feature a hidden cell phone pocket and fab pocket stitching and come in a variety of washes.
Wake-up and smell the cookies with matching family pajamas from Jammin Jammies! Celebrate the holidays in matching jammies inspired by the season's get-togethers and favorite treats. Enjoy a fun family cookie bake-off with bonus cookie cutters. Soft, comfy and totally fun, a cozy gift idea for the whole family! These jammies are so cute, and I can't wait to get some pictures taken in them!

The new, compact INSTAX Mini 8 color models preserve the ease of use and attractive design elements of the existing INSTAX Mini series. At the same time, the Mini 8 cameras offer new features and enhancements. You will instantly notice a slimmer and lighter body. The INSTAX Mini 8 is approximately10% smaller than the Mini 7S in volume ratio. It is now even easier for the consumer to carry around an INSTAX with them everywhere. The new INSTAX Mini 8 features automatic exposure measurement. The camera signals the recommended aperture setting with a flashing LED light and the user can manually adjust the dial to the recommended setting. This helps the user capture the perfect photo every time. A new High-Key mode is available on the INSTAX Mini 8 cameras. This mode enables consumers to take brighter pictures with a soft look -perfect for portraits. The viewfinder has also been improved for enhanced subject viewing. Framing a shot becomes easier for the user with even greater clarity and improved visibility.
This inspirational silver necklace from Jenny Present will carry meaning for the woman who needs a boost as well as the woman who has already overcome great challenges. Beneath doubt and helplessness there exists a deep pool of tenacity within every woman. It's gritty and resounding, a source of power you didn't know you had and perseverance you thought you'd lost. This necklace tells the world that you won't be stopped. You will go on. And you will be defined not by how far you may fall, but how hard you fight! Make sure you check out the entire LifeNotes® collection of inspirational necklaces.
Tani USA has the most amazing SilkCut Leggings. Trust me! They are luxuriously soft and lightweight, yet extraordinarily resilient to keep up with whatever the day brings. These leggings are knit in Europe with the brilliant fabric Micro Modal® Air, that is actually thinner and even softer than silk. And Tani is the first and only underwear brand to use this innovative fabric. Despite it's remarkable soft feel, the SilkCut collection stretches and recovers as it lightly forms and shapes to your body in a level of comfort and style you will definitely get used to.
The HoMedics® Triple Shiatsu Massage Cushion with heat delivers a revitalizing massage in the comfort of your favorite chair. Three massage styles in one cushion for the ultimate massage experience Percussion: for fast, invigorating massage Kneading: for deep, muscle comfort Rolling: for gentle, relaxing massage. Customize your massage with zone control: select full back, upper back, lower back, or spot.
These Sharkskin Pearls Earrings from DTails U Like have a delicate, dainty and timeless elegance. This is an original design, made of genuine freshwater and Swarovski glass pearls. These earrings were included in The Emmy's Swag Bag for Celebrities, and there's a good reason why! They are absolutely stunning!
These slimming spandex swim and bike shorts from HydroChic are a staple for any wardrobe! Made with sun protective fabric, you can wear them all day without a care. Quick drying, stretchy material provides a full range of motion for any activity, both in and out of the water! They are made of XTRA LIFE LYCRA®/ Nylon and ultra chlorine resistant.
Whether you are on the naughty or nice list this holiday, it's likely that you could use a mood boost! Just layer on these mood boosting fragrances from LifeTherapy, available in both body wash and hydrating body lotion. The Mini Collection Gift Set includes ten 1 oz bottles in a gift box.
This short sleeve, capri pajama set from Needham Lane is super soft and very comfortable. This pajama is made of 100% cotton poplin, printed with exclusive designs. The top is a button-front style with a notched collar and chest pocket, and the capri-length pants have a drawstring elastic waistband. There are several designs and styles to choose from, assuring you'll find the perfect sleepwear for that special person on your list!
Cracker Barrel has a wide variety of gifts, perfect for anyone on your list! From a Gray Fringe Scarf that is knit so smooth to a cozy on-trend Aztec Pattern Cardigan Sweater and great smelling Pomegranate Citrus Hand Wash and Lotion, you'll get your holiday shopping done in no time at Cracker Barrel Old Country Store.
Heat Holders are the USA's leading thermal sock brand who are yet to be beaten on quality and price. Whether you suffer from poor circulation or just want a bit of extra warmth during the colder months, Heat Holders will be sure to keep you toasty! The phenomenal success of our Heat Holders® socks has led to several additional products, such as hats and gloves (and the new Snugover fleece!) but this is – literally – the big one! The new Heat Holders® Thermal Oversized Throw/Blanket is made of a luxuriously soft fur fleece, called the HeatWeaver®.
Summer has ended and the cool weather is slowly making its appearance. Just because you've swapped your light summer wardrobe for jeans and warm sweaters to cover your skin, it doesn't mean that you should take a break from your skincare regimen. It's easy to take care of your skin all year long thanks to Nerium International's Age-Defying Night Cream NeriumAD® Formula! With its unique consistency, the formula sticks to skin like a mask, ensuring maximum adherence so the formula works to its fullest.
Vest Laptop Radiation Shield is a highly comfortable laptop pad minimizing exposure to radiation emitted from the laptop battery, Wi-Fi antenna, and cellular antenna in some models, in addition to minimizing heat reduction. I totally need this, as I'm on the laptop every single day!
Cam Trade Inc. Soft Comfort's CHILLIN Bootie lets you stride along with confidence as you rock this lightweight, chunky heel. Add in Soft Comfort's supportive Memory Foam extra cushioned stitch detail and you will feel the love! No worries about getting this bootie on and off with its 180 degree elasticized gore topline and size zipper. The chunky lug heel is a Fall '16 "must have" and Soft Comfort has delivered! *Your chance to win a pair here!*

In a world of camera hand straps that simply do not work, the SpiderPro Hand Strap is set far above the rest – it's groundbreaking concepts and features, functionality, and beautiful design, mark a paradigm shift in how a hand strap should look, work, and function. This hand strap is designed for professional camera bodies and shooting environments, and it's performance and ergonomics are simply unparalleled. The hand strap is adjustable to any size wrist, compatible with extended battery pack/vertical grips and works with any tripod!
Poweraid SOLSOL Collection offers the First Solar Hat that is battery-free, safe, clean and renewable and it extends the battery life of your cell phone! It's available in the popular stylish 5 Panel Snapback Flat Brim baseball cap design in 8 different two-tone and solid color combination. The best part? This hat is safe and does not emit any Electromagnetic Radiation! The hat is compatible with ipod, iphone5, 6, 6S, iPad, Android Smart Phones, GoPro, Blue Tooth Headphones, Speakers, digital cameras, smart watches and most 5V smart devices.
RUSK's Designer collection is just the answer for your hair needs this winter! This set includes W8LESS PLUS HAIRSPRAY (Provides weightless, brushable, touchable, humidity resistant, extra strong hold and control, while adding texture and natural shine), MOUSSE (A light, foamy, highly concentrate mousse that provides maximum volume, body and control all in one), and WIRED (Provides flexible body and pliable style support while creating incredible texture.)
Most of us sit at a computer all day, yet study after study shows sitting for several hours a day can be hazardous to your health – contributing to obesity, diabetes and cancer. Plus, it can wreak havoc on your posture! Vary your position throughout the day with the innovative and versatile Posture Stand. The Posture Stand allows you to work in the optimum position to promote spinal alignment and good posture. With 360-degree rotating legs, adjustable height and table angle, plus an attachable mouse stand, the Posture Stand can be used with laptops, tablets, e-readers, books, and desktop monitors. Whether you're at home or work, on the sofa or in bed, it can be altered to suit your needs.
Make sure you check out more Holiday Gift Guides from The Frugal Mom.