We recently visited Hawaiian Falls in Mansfield to celebrate a teen's birthday! We chose to self-host the party, which led to a day of fun and excitement!
Having a teenager with a summer birthday poses a few challenges. First, teenagers aren't into many things unless they are "cool" and second, the Texas sun is blaring hot. While indoor parties might seem ideal, opting for a waterpark party was the perfect option!
There are several Hawaiian Falls locations in the Dallas Fort Worth area: Mansfield, Waco, Roanoke, The Colony and Garland. We chose to visit Hawaiian Falls in Mansfield, which is located ten minutes south of Interstate 20 at 360 and Heritage Parkway South, across from Big League Dreams.
Attractions at Hawaiian Falls in Mansfield
From adults to teens to toddlers, Hawaiian Falls offers something for everyone. There's a good mix of thrill and a good mix of chill:
My six-year-old started off in the Kona Kooler. It's a relaxing, continuous river, perfect for cooling off in the summer heat. He slowly made his way to Keiki Kove, but later found his favorite slide, Reef Racer: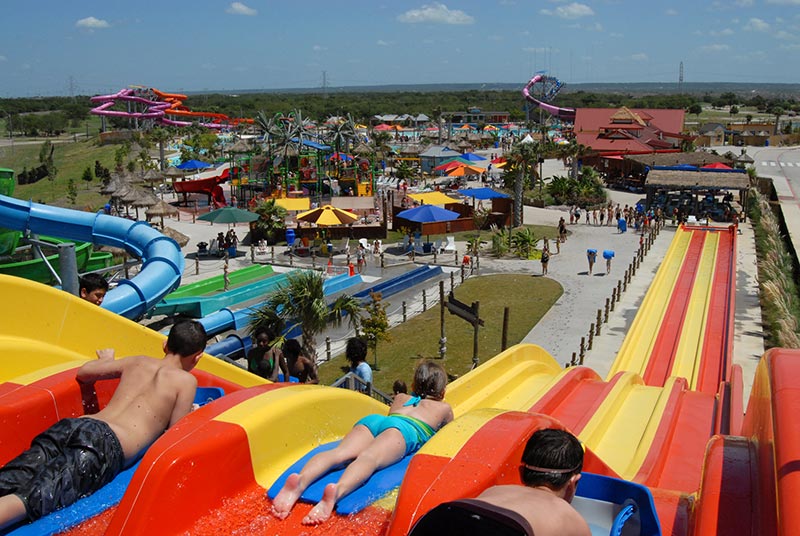 The teens found a thrill at the LaLana Peek Slides. Here, you will find four twisting, turning, enclosed inner-tube slides. (They also have one half-and-half enclosed slide.)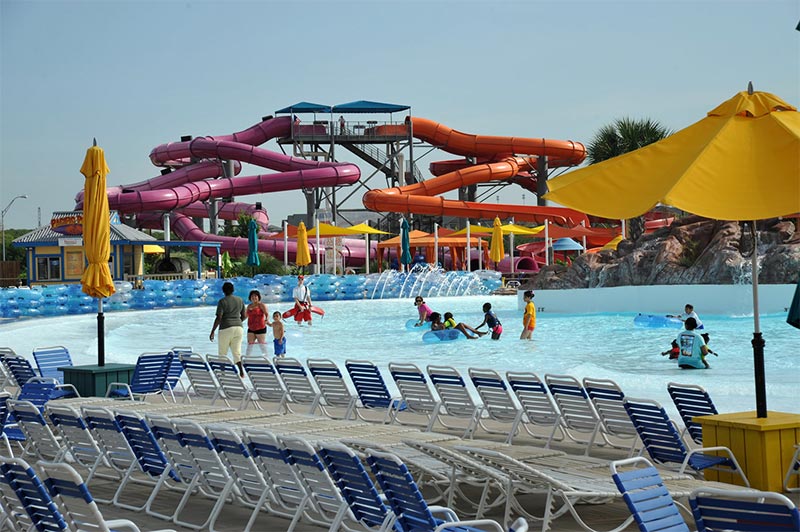 Smaller children might enjoy Turtle Bay or Tiki Tower:
Hawaiian Falls in Mansfield also has a wave pool and number of other attractions. You can read about those on the Hawaiian Falls website.
Birthday Parties at Hawaiian Falls in Mansfield
Hawaiian Falls offers a birthday party package that might be perfect for some guests. Instead of booking a party, we opted to have a self-hosted party, which we were able to tailor more to our needs. It was so easy, and these are the steps:
Decide if you want to rent a private cabana or get there early to secure a few tables. I think both options are great, as there are many tables located in the shade, near the slides.
Keep in mind that with a cabana rental, you'll get private wait service, a customized food & beverage menu, a table with chairs, plus a private safe for your valuables. (Tickets are separate from cabana rental.)
2. Purchase your tickets to the park and send out invitations!
3. Decide if you will bring in your own food or order off the menu at Sharky's. (Sharky's offers burgers, hot dogs, pizza and chicken dippers, among other things.) You might want to look into all-day drink wristbands, too! You can pay one price and get fountain drinks all day!
Food and beverages can be brought into the park for a nominal fee. All coolers, containers or bags of any size containing food or drinks will be assessed a $15 fee and are subject to search by the Hawaiian Falls staff. (The park suggests sandwich fixings, small snacks, and drinks. No alcohol, no glass, no sharp knives and no large prepared meals or fast food from restaurants.)
This means you can bring in your own cupcakes and/or cake, or purchase snacks from the vendors around the park.
Snacks at Hawaiian Falls
The park offers snacks such as ice cream, pretzels, churros, cotton candy, cookies, edible cookie dough and slushes.
I was so excited to see they offered HTeaO, too. (If you haven't tried the watermelon tea, do it! The coconut tea is delish, too!) *Moms, they even have an ice coffee to help you keep up with the children!
We really had a great time. The teenagers were not on their devices and never said they were bored. We went on an overcast day, so lines were very light and it was amazing! I definitely recommend Hawaiian Falls for your teenager's summer birthday party!
A few helpful tips from a Mom:
Don't forget your towels and sunscreen.
Bring water shoes or flip flops or crocs. The cement is hot, even on an overcast day. You can leave your shoes at the bottom of each slide.
Lockers are available for personal items.
Consider purchasing a Pogo Pass for Hawaiian Falls tickets and other attractions in the Dallas Fort Worth area. *Use the code MOM to save money on tickets!