When searching for the perfect gift for that special someone on your list, consider these top holiday gifts for the home. They are unique, practical and sure to bring a smile on Christmas morning!
A beautiful high-performance nonstick fry pan that features Kyocera's proprietary ceramic nonstick coating technology that has been shown to outperform and outlast other leading brands. The ceramic coating provides superior non-stick performance that is safe, scratch resistant and very easy to clean. The heavy gauge aluminum base clad with a stainless base provides excellent thermal conductivity resulting in quick and even heat distribution. The durable riveted stainless handle is comfortable in hand and enables the pan to be oven safe up to 400 degrees F.
The 2 pc set includes one 8″ and one 10″ ceramic fry pan and sells for $94.95. It can be purchased here.
The most advanced comfort technology available for tired, hurting feet, GelPro Elite is 50% thicker than GelPro Classic with a ¾" thick Dual Comfort Core of our proprietary gel and energy-return foam. This revolutionary comfort mat offers maximum support and plush comfort so you can actually stand for extended periods of time without experiencing discomfort and fatigue. The GelPro Elite Comfort Mat features reinforced beveled edges, a slip-resistant bottom and a stain-resistant top surface constructed with non-toxic polyurethane. Ideal solution for those who suffer from back, hip, leg or foot discomfort or anyone who wants to enjoy what they do while standing on hard flooring.
To purchase the GelPro or GelPro Classic mat, please visit www.gelpro.com.
The Bella Non-stick 10.5″ x 20″ Griddle has a perfect non-stick coating that ensures easy clean-up. The large and durable 10.5″x 20″ non-stick cooking surface allows you to make 10 eggs or pancakes. The powerful 1500 watt heating system combined with the adjustable temperature control probe gives you full control of your cooking. I love that it has cool touch handles and base and is fully immersible for easy cleaning!
With the automatic electric spiralizer, you can transform fruits and veggies into colorful ribbons and spirals adding flavor and variety to your menu. Make healthy vegetable pasta or salads from zucchini, cucumber, carrots, potatoes, beets and more in just seconds! Rotating blade system with 4 different blades helps you to enjoy ribbons, linguine, spaghetti and fettuccine shaped fruits and vegetables, and is also perfect for making curly fries. One-touch operation with auto-move blade for true hands free operation.
For more information on these and other Bella items, visit BellaHousewares.com
This is the electric pressure washer that cleaned more effectively than other models in side-by-side evaluations conducted by The Hammacher Schlemmer Institute. The Best Pressure Washer cleaned a sidewalk over three times faster than lesser models, removed mud from car tires twice as fast as the other units, and removed a higher percentage of paint from bricks than any other model tested. It generates up to 2050 PSI of pressurized water and has four quick-connect nozzles that provide angled sprays (0°, 15°, 25°, and 65°) to ensure optimal performance. Comes with a wheeled cart for easy transport and removes for ultimate portability. Has a removable 33 oz. detergent tank and 25′ hose. Plugs into AC with a 35′ cord.
For more information on this pressure washer, visit Hammacher Schlemmer.
Prepare delicious meals in the company of your favorite characters in this Star Wars themed slow cooker. The large, 7-quart capacity and oval shape helps maximize cooking space so you can prepare anything from chili to a whole chicken. The dishwasher-safe stoneware insert lifts out for easy cleaning and serving while the adjustable temperature control offers multiple heat settings.
To see this and more licensed Star Wars appliances, visit www.UncannyBrands.com
Planning a long trip? This beautiful piece of luggage is perfect for vacations and features an ultra-durable poly-carbonate shell, an interior compression system, and best in class wheels for easy maneuvering so you can move effortlessly between destinations. With a German Bayer Makrolon® Polycarbonate Shell, this large piece has 360° smooth-glide wheels, YKK zippers, a TSA approved lock and available in 5 colors.
For more information on the OOO luggage sets, visit https://oootraveling.com
Your child's new, favorite chair is fun, comfortable and useful: it converts to an ottoman and has a hidden internal storage compartment that's perfect for toys! The Stash chair is small, sleek and fits most room decors. You'll be amazed at how useful this small, folding chair is!
For more information on the STASH chair, visit UncagedFurniture.com
MassageRite is the ultimate extension to the award-winning standing desk chair, the LeanRite. What can be better than having a deep tissue massage right at your working environment? Recommend for people suffering from chronic back pain and/or lumbar pain issues, and designed for neck, back, thighs and feet. (The heat element is easy to turn on/off, depending on comfort level desired.)
For more information on the MassageRite or LeanRite, visit ErgoImpact.com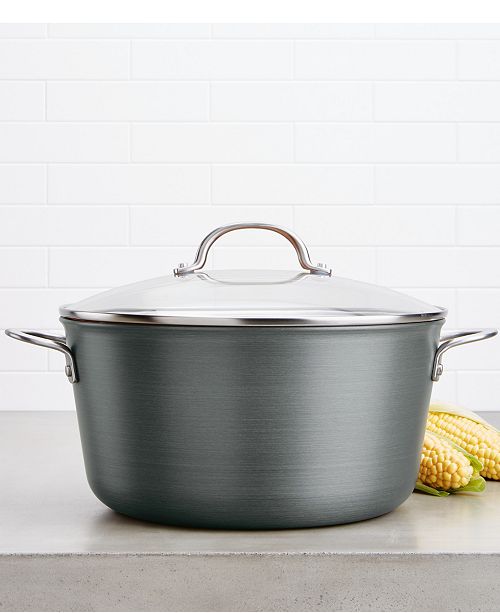 Go big and simplify the pursuit of your home chef passions with the Ayesha Curry Home Collection 10-Quart Hard Anodized Aluminum Covered Stockpot. The Ayesha Curry Home Collection puts inspiring, high-quality cookware in easy reach for creating flawless traditional favorites, cooking up fun and easy weeknight family dinners or making a signature spin on recipes for brunches, date night, or holiday get-togethers. This 10-quart saucepot features eye-catching style in a go-long or go-home format that's ideal for Ayesha's Leftover Turkey Noodle Soup or a family-sized, comfort-food friendly batch of Game Day Pasta.
Constructed from hard anodized aluminum, the stockpot heats quickly and evenly and is twice as strong as stainless steel with a sleek, Instagram-ready silhouette. More than just a pretty pot, this high-quality cookware is heat safe to 500 Degree F and features a double-riveted stainless steel handle and shatter resistant glass lid for confidence and cool, comfortable performance in the kitchen. The glass lid locks in heat and moisture, and an enhanced-grade nonstick coating provides long-lasting, effortless food release and easy cleanup of even the gooiest recipes like uber cheesy mac and cheese.
To see the Aeysha Curry Home Collection, visit Amazon.com
Instant Pot® Ultra 10-in-1 Multi-Use Programmable Cooker is the next generation in kitchen appliances. Designed for the home chef looking for a greater degree of customization and control for even greater precision cooking.
The Ultra combines the functions of a Pressure Cooker, Slow Cooker, Rice/Porridge Cooker, Cake Maker, Yogurt Maker, Sauté/Searing, Steamer, Warmer, Sterilizer, and, a truly new and unique feature, the Ultra program. The 'Ultra' provides complete custom programming for pressure and non-pressure cooking. Now, one can set the exact parameters desired to achieve perfect results each and every time. With the 'Altitude' adjustment, the guesswork is eliminated from a recipe conversion providing a more precise cooking time.
Built with 16 smart programs: Soup/Broth, Meat/Stew, Bean/Chili, Cake, Egg, Slow Cook, Sauté/Searing, Rice, Multigrain, Porridge, Steam, Sterilize, Yogurt, Warm, Pressure Cook, and Ultra. Now, your favorite dishes are as simple as selecting your preferences and having them ready up to 70% faster. With the 'Sterilize' program one can pasteurize dairy products, sterilize baby bottles, jars, and utensils; as well as, perform certain types of canning much more conveniently than ever before! The 'Cake Maker' is designed to prepare soft and moist cakes and the 'Egg' prepares perfect eggs in just a few minutes.
To order the Instant Pot, visit InstantPot.com
Beautiful photo and video slideshows and colleges are just clicks away with Adobe Photoshop Elements and Premiere Elements 2019. Whether you're looking to create personalized crafts with your favorite family photos, quickly edit the photos from your last vacation or create a slideshow of special moments from your little one's first year, Photoshop Elements and Premiere Elements is perfect for anyone looking to creatively share those special memories.
Some features include:
Effortless organization—Go from hundreds of mystery folders scattered across your computer to a visual view of your photos automatically sorted by dates, subjects, people, and places.

Intelligent editing—Automated photo editing that gives you more time to be creative, and it empowers you to open closed eyes like magic and make selections effortlessly.

Stunning creations—Photo and video slideshows and collages are automatically created and delivered to you to highlight memorable moments like birthdays and vacations.
For more information on Photoshop, visit https://www.adobe.com/products/catalog.html
The Grillmaster Collection grilling gift set comes with a variety of grilling planks and smoking chips. Many people do not realize that smoking chips can be used in charcoal and gas grills (not just smokers), and the planks can also be used in the oven — providing one of the easiest ways to add bold flavor to your grilled foods!
From cherry to mesquite to applewood and maple, visit Wildwood Grilling Outlet to see available products.